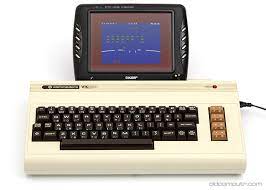 Gorf VIC-20: A Classic Game from the Golden Age of Computing
In the early 1980s, when home computers were just starting to gain popularity, a game called Gorf emerged as one of the standout titles for the VIC-20. Developed by Midway and released in 1982, Gorf quickly became a beloved classic among gamers.
Gorf is a space-themed shooter game that combines elements of various arcade classics such as Space Invaders and Galaxian. It features five distinct levels, each with its own unique challenges and enemies. Players take control of a spaceship and must navigate through waves of alien invaders while avoiding their deadly projectiles.
One of the defining features of Gorf is its dynamic gameplay. Each level presents players with different enemy formations and attack patterns, keeping them on their toes and providing a fresh experience with every playthrough. Additionally, Gorf introduces an innovative twist by including a "Flagship" level where players face off against an enormous boss ship known as the "Gorfian Flagship."
The graphics and sound effects in Gorf were impressive for its time, especially considering the limited capabilities of the VIC-20 computer. The game's visuals featured vibrant colors and detailed sprites that added to the immersive experience. The sound effects, though simple by today's standards, were catchy and effectively captured the excitement of space battles.
Gorf quickly gained popularity due to its addictive gameplay and challenging levels. It became one of the most successful games for the VIC-20 platform, contributing to its growing reputation as a capable gaming machine despite its modest hardware specifications.
The success of Gorf on the VIC-20 can be attributed not only to its engaging gameplay but also to its contribution in pushing boundaries within limited technological constraints. It showcased what could be achieved with creativity and skillful programming on early home computers.
Today, Gorf remains an important part of gaming history. It serves as a reminder of the golden age of computing when games were simple yet captivating, and players could immerse themselves in imaginative worlds despite the technological limitations.
If you're a retro gaming enthusiast or simply curious about the early days of computer gaming, Gorf for the VIC-20 is definitely a title worth exploring. Its challenging gameplay, unique levels, and nostalgic charm make it a true gem from the past that continues to captivate gamers even decades later.
So, dust off your VIC-20 or fire up an emulator, and prepare to embark on an intergalactic adventure with Gorf – a timeless classic that has left an indelible mark on the history of gaming.
Frequently Asked Questions About the VIC-20: Games, RAM, Resolution, Connectivity, and Upgrades
What games are available for the VIC-20?

The VIC-20, released by Commodore in 1980, had a respectable library of games considering its early entry into the home computer market. Here are some notable games available for the VIC-20:
Gorf: As mentioned earlier, Gorf is a popular space-themed shooter game that became a hit on the VIC-20.
Jupiter Lander: In this game, players take on the role of a pilot navigating a spacecraft through treacherous terrain on Jupiter's moon.
Omega Race: A fast-paced arcade-style shooter where players control a spaceship and compete against enemy ships in an arena.
Raid on Fort Knox: This action-packed game challenges players to infiltrate Fort Knox and steal as much gold as possible while avoiding security measures.
Adventureland: One of the earliest text adventure games available for the VIC-20, Adventureland takes players on an interactive journey through various fantasy realms.
Pirates Cove: Another text adventure game set in the world of pirates and treasure hunting, offering an immersive and engaging experience.
Cosmic Cruncher: A puzzle game where players must strategically clear falling blocks to prevent them from reaching the top of the screen.
Clowns: A fun and challenging game where players control a seesaw to bounce clowns into barrels while avoiding obstacles.
Radar Rat Race: An addictive racing game where players guide their rat through mazes while collecting cheese and avoiding cats.
The Count: A unique educational game that helps children learn basic math skills through interactive gameplay with Count Dracula himself.
These are just a few examples of the diverse range of games available for the VIC-20. Despite its limitations compared to later systems, developers managed to create entertaining experiences that captivated gamers at the time. Exploring these vintage titles can provide both nostalgia and an appreciation for gaming's early days.
How much RAM does the VIC-20 have?

The VIC-20 computer, released by Commodore in 1980, comes with a total of 5 kilobytes (KB) of RAM. However, it is important to note that some of this memory is reserved for system use, leaving approximately 3.5 KB available for user programs and data storage. Despite its limited RAM capacity, the VIC-20 played a significant role in the early home computer market and remains a cherished piece of computing history.
What is the maximum resolution of the VIC-20?

The maximum resolution of the VIC-20 is 176 pixels horizontally by 184 pixels vertically. This resolution is achieved in the standard graphics mode, known as "VIC-20 Hi-Res Mode." In this mode, the screen is divided into a grid of 22 columns and 23 rows, with each cell representing an individual pixel. The limited resolution was a result of the VIC-20's hardware capabilities, which were designed to be affordable and accessible for home users during its time. Despite its low resolution compared to modern standards, the VIC-20 managed to deliver enjoyable gaming experiences and served as a stepping stone for future advancements in home computing.
How do I connect a VIC-20 to a modern TV or monitor?

Connecting a VIC-20 to a modern TV or monitor requires some additional steps due to the differences in technology between the VIC-20's era and today's displays. Here's a guide to help you connect your VIC-20 to a modern TV or monitor:
Check the available ports on your modern TV or monitor: Look for ports such as HDMI, VGA, DVI, or composite/component inputs. The type of connection you can use will depend on the available ports.
Obtain an appropriate video adapter: The VIC-20 uses an RF (radio frequency) output for video, which may not be compatible with modern displays. You'll need an RF-to-[your chosen connection] adapter to convert the signal.
– For HDMI input: Get an RF-to-HDMI converter box that supports the VIC-20's RF output and provides an HDMI output. Connect the converter box to your TV or monitor using an HDMI cable.
– For VGA/DVI input: Get an RF-to-VGA or RF-to-DVI adapter that matches the input of your display. Connect one end of the adapter to the VIC-20's RF output and the other end to your display using a VGA or DVI cable.
– For composite/component input: Get an RF-to-composite/component adapter that suits your display's inputs. Connect one end of the adapter to the VIC-20's RF output and connect the other end to your display using composite/component cables.
Power up and tune in: Once you have connected everything, power on your VIC-20 and turn on your TV or monitor. Tune in to the correct input channel/source on your TV/monitor that corresponds to where you connected your VIC-20.
Adjust display settings (if necessary): Depending on your TV/monitor, you may need to adjust some display settings for optimal picture quality. These settings might include aspect ratio, resolution, or picture mode.
Test and enjoy: With the connections established and settings adjusted, you should be able to see the VIC-20's output on your modern TV or monitor. Load up a game or program on your VIC-20 and enjoy the retro experience on a contemporary display!
Remember that the quality of the display may vary due to the differences in technology between the VIC-20 and modern displays. However, this method should allow you to connect and play your VIC-20 on a modern TV or monitor, preserving the nostalgia of this classic computer system.
Is it possible to upgrade the VIC-20's memory and/or graphics capabilities?

The VIC-20, being an early home computer released in 1980, had limited memory and graphics capabilities compared to modern standards. However, there were some options available for users to expand its memory and graphics capabilities.
Memory Expansion:
The VIC-20 came with 5KB of RAM built-in, which was considered quite limited even during its time. However, it was possible to expand the memory by using cartridge-based expansions or add-on modules. These expansions could increase the RAM up to a maximum of 35KB or even higher in some cases. By adding extra memory, users could run more complex programs and games that required additional space.
Graphics Enhancements:
The VIC-20 had a built-in graphics chip called the VIC (Video Interface Chip), which supported a resolution of 176×184 pixels with a limited color palette. While it wasn't possible to upgrade the VIC chip itself, there were peripherals available that provided enhanced graphics capabilities.
One such peripheral was the Commodore 64's Super Expander cartridge, which was compatible with the VIC-20 as well. This cartridge provided additional video modes and expanded color options, allowing for improved graphics capabilities beyond what the standard VIC chip offered.
Another option was using third-party hardware modifications like video modification boards or custom chips that could be installed internally or externally. These modifications allowed for higher resolutions and more colors on screen, pushing the graphical capabilities of the VIC-20 further.
It's important to note that these upgrades and enhancements were typically developed by third-party companies or individual enthusiasts and may not have been widely available or supported by Commodore themselves.
While upgrading memory or enhancing graphics on the VIC-20 was possible through various means, it's worth considering that these modifications were not as common as they are today with modern computers. The primary appeal of the VIC-20 lies in its original hardware configuration and nostalgic charm rather than pushing its limits through extensive upgrades.
If you're interested in exploring the VIC-20's capabilities, it's recommended to research and consult dedicated communities, forums, or websites that specialize in retro computing and VIC-20 modifications. These resources can provide more detailed information on specific upgrades and their compatibility with the VIC-20.