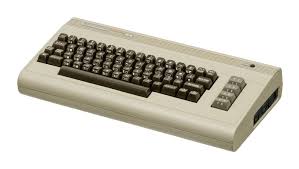 Introducing the New C64: A Modern Twist on a Classic Icon
The Commodore 64, a legendary computer that captured the hearts of millions in the 1980s, is making a comeback with a modern twist. Enter the new C64, a reimagined version that combines the nostalgia of the original with modern technology and features.
The new C64 retains the iconic design elements that made its predecessor so beloved. The sleek beige casing, full-sized keyboard, and distinctive logo evoke a sense of nostalgia for those who grew up with the original. However, under the hood lies a powerhouse of modern computing capabilities.
One notable upgrade is the inclusion of updated hardware to enhance performance. The new C64 boasts a faster processor, increased memory capacity, and improved graphics capabilities. This means smoother gameplay experiences and faster loading times for software enthusiasts.
In addition to its hardware upgrades, the new C64 embraces connectivity in today's digital world. It offers multiple USB ports for connecting external devices such as keyboards, mice, or even modern storage solutions. This allows users to expand their options and customize their experience according to their needs.
Furthermore, the new C64 embraces both classic and contemporary gaming experiences. It comes preloaded with a selection of classic games from the original Commodore 64 era. These timeless titles will undoubtedly bring back memories for longtime fans while introducing younger generations to gaming history.
But that's not all – thanks to its enhanced capabilities, the new C64 also supports modern games and software applications. This means that users can enjoy both retro gaming experiences and explore new titles developed specifically for this platform.
Beyond gaming, the new C64 serves as an excellent platform for learning programming skills or exploring creative endeavors. Its user-friendly interface and compatibility with various programming languages make it an appealing choice for aspiring developers or hobbyists looking to dive into coding projects.
Whether you're an enthusiast seeking nostalgia or someone curious about experiencing computing history, the new C64 offers a unique blend of classic charm and modern functionality. It's a testament to the enduring legacy of the Commodore 64 and its impact on the world of computing.
So, dust off those old floppy disks, fire up your favorite games, or embark on new adventures with the new C64. It's a celebration of the past that embraces the present, allowing us to relive cherished memories while creating new ones in this digital age.
7 Frequently Asked Questions About the New C64: Specs, Price, Availability, Emulator, Accessories, Software Compatibility, and Cartridge Port
What are the specs of the new C64?

The specific specifications of the new C64 may vary depending on the manufacturer or model, as there are several versions available on the market. However, here are some general specifications that you can expect from a modern reimagining of the Commodore 64:
Processor: The new C64 typically features a more powerful processor compared to the original model. It may include a modern 8-bit or 16-bit processor, providing improved performance and speed.
Memory: The new C64 often comes with expanded memory capacity compared to its predecessor. It may have RAM ranging from 128KB to 256KB or more, allowing for smoother multitasking and enhanced software capabilities.
Graphics: The graphics capabilities of the new C64 are usually upgraded to support higher resolutions and improved visual quality. This enables better graphics rendering and more immersive gaming experiences.
Storage: While the original Commodore 64 relied on floppy disks for storage, the new C64 typically incorporates modern storage solutions. It may include built-in flash memory or offer support for external storage devices such as USB drives or SD cards.
Connectivity: The new C64 often includes multiple USB ports, allowing users to connect external devices like keyboards, mice, joysticks, or even modern peripherals such as printers or game controllers.
Audio: The audio capabilities of the new C64 are often enhanced compared to the original model, providing better sound quality and improved music playback during gaming sessions or creative projects.
It's important to note that these specifications are general guidelines and can vary depending on different manufacturers' interpretations of the new C64 concept. It's always recommended to check the specific specifications provided by the manufacturer when considering purchasing a particular model of the new C64.
How much does the new C64 cost?

The price of the new C64 can vary depending on various factors such as the region, retailer, and any additional accessories or bundles included. It is best to check with authorized retailers or the official website of the manufacturer to get accurate and up-to-date pricing information. They will be able to provide you with the most accurate details regarding the cost of the new C64 and any available options or promotions.
Where can I buy a new C64?

The new C64 can be purchased from various online retailers and specialized retro computing stores. Here are a few options to consider:
Official Website: Visit the official website of the new C64 manufacturer to check for availability and make a purchase directly from them.
Online Retailers: Popular online marketplaces such as Amazon, eBay, and Newegg often have listings for the new C64. Make sure to read customer reviews and check seller ratings before making a purchase.
Retro Computing Stores: Explore dedicated retro computing stores or websites that specialize in vintage and classic computer hardware. These stores often carry a range of retro computers, including the new C64.
Local Classifieds: Check local classified ads platforms or online communities where individuals might sell vintage or retro computer equipment. Keep an eye out for listings mentioning the new C64.
When purchasing, it's essential to verify the authenticity and reputation of the seller to ensure you receive a genuine product in good condition. Additionally, consider comparing prices from different sources to find the best deal that suits your budget.
Remember, availability may vary depending on your location and market demand, so be sure to explore multiple options until you find a reliable source from which to purchase your new C64. Happy shopping!
Is there an emulator for the new C64?

Yes, there are several emulators available for the new C64. These emulators allow you to recreate the experience of using a Commodore 64 computer on modern hardware.
One popular emulator for the new C64 is VICE (Versatile Commodore Emulator). VICE is a free and open-source emulator that supports multiple platforms, including Windows, macOS, Linux, and more. It faithfully replicates the functionality of the original Commodore 64 and provides an authentic experience for running classic games and software.
Another notable emulator is CCS64, which is specifically designed for Windows users. It offers a user-friendly interface and supports various features such as joystick emulation and save states. CCS64 also provides options to customize display settings and audio output to enhance the nostalgic experience.
For those who prefer web-based emulators, there are online platforms like The Internet Archive's Software Library or RetroGames.cz that offer browser-based emulation of the Commodore 64. These platforms allow you to play classic games directly in your web browser without the need to install any additional software.
It's important to note that while emulators can provide an enjoyable way to relive the Commodore 64 experience, acquiring original software or legally obtained ROMs is essential to comply with copyright laws.
So whether you want to revisit your favorite childhood games or explore new titles from the vast library of Commodore 64 software, these emulators offer a convenient way to enjoy the new C64's capabilities on modern devices.
Are there any accessories available for the new C64?

Absolutely! The new C64 is designed to be versatile and expandable, offering a range of accessories to enhance your experience. Here are a few notable accessories available for the new C64:
Joysticks: To fully immerse yourself in the gaming experience, you can connect compatible joysticks for precise control and responsive gameplay.
External Storage: While the new C64 has built-in storage, you can expand it further by connecting external storage devices such as USB flash drives or SD cards. This allows you to store more games, software, or personal files.
Keycaps and Keyboards: For those who appreciate customization, there are keycap sets available that allow you to change the look and feel of your keyboard. Additionally, if you prefer a different keyboard layout or want a mechanical keyboard experience, there are compatible keyboards that can be connected to the new C64.
Cartridges: Similar to the original Commodore 64 era, cartridges are available for the new C64. These cartridges offer additional games or software applications that can be easily plugged into the system.
HDMI Adapters: If you prefer playing on a modern display, HDMI adapters allow you to connect the new C64 to modern TVs or monitors with HDMI inputs.
Networking Adapters: To enable online connectivity and access online resources, networking adapters can be added to connect the new C64 to your home network or even access cloud-based services.
These are just a few examples of the accessories available for the new C64. As this modern take on a classic continues to gain popularity, we can expect more exciting accessories to become available in the future. These accessories provide flexibility and customization options so that users can tailor their new C64 experience according to their preferences and needs.
What kind of software is compatible with the new C64?

The new C64 is compatible with a wide range of software, both classic and modern. Here are some examples:
Classic Games: The new C64 comes preloaded with a selection of classic games from the original Commodore 64 era. These timeless titles include popular favorites like "Pac-Man," "Donkey Kong," "Space Invaders," and many more.
Retro Gaming Emulators: The new C64 can run various retro gaming emulators, allowing you to play games from other vintage systems such as the NES, SNES, or Sega Genesis. This opens up a vast library of games from different eras.
Modern Games: Thanks to its improved hardware capabilities, the new C64 supports modern games developed specifically for this platform. While the selection may be more limited compared to mainstream gaming consoles, there are still developers creating new titles for retro-inspired gaming experiences.
Programming Languages: The new C64 is an excellent platform for learning programming skills or exploring coding projects. It supports various programming languages such as BASIC, Python, and C, allowing users to develop their own software applications or games.
Productivity Software: The new C64 can also run productivity software applications like word processors, spreadsheets, and graphic design tools that have been developed or adapted for the platform. These applications enable users to engage in creative endeavors or complete work-related tasks.
Homebrew Software: The Commodore 64 community is known for its active homebrew scene where enthusiasts create and share their own software projects. This includes games, demos, utilities, and more that are specifically designed to run on the Commodore 64 platform.
It's important to note that while the new C64 offers compatibility with a wide range of software options, it may not support every piece of software ever released for the original Commodore 64 due to differences in hardware architecture or compatibility issues.
However, with its updated capabilities and compatibility with modern programming languages, the new C64 provides a versatile platform for enjoying classic games, exploring new software creations, and engaging in various creative and productive pursuits.
Does the new C64 have a cartridge port?

Yes, the new C64 does have a cartridge port. This feature allows users to connect and play classic Commodore 64 cartridges, providing an authentic gaming experience. The cartridge port on the new C64 ensures compatibility with a wide range of original cartridges from the past, allowing users to relive their favorite games and explore the extensive library of software available for the Commodore 64. Whether you have cherished cartridges from the past or are looking to expand your collection, the cartridge port on the new C64 provides a seamless way to enjoy classic gaming on this modern iteration of a beloved icon.